The pools are closed, the beach might be too hot or too far, playgrounds are out of question. So what are you doing with your kids this weekend? One off-the-beaten-path experience you can enjoy with the whole family is visiting a lavender farm, which is in bloom from mid-June to middle of July. This is a memorable feast for all the senses and one that will gift beautiful scents and photos to enjoy all year long. Here are New Jersey's five lavender farms that you can visit to simply breathe in lavender-infused air, pick your own flowers, or pick up lavender beauty essentials and edibles:
#1. Hidden Spring Lavender Farm and Gift Shoppe
Why Visit: BEST FUN for the entire family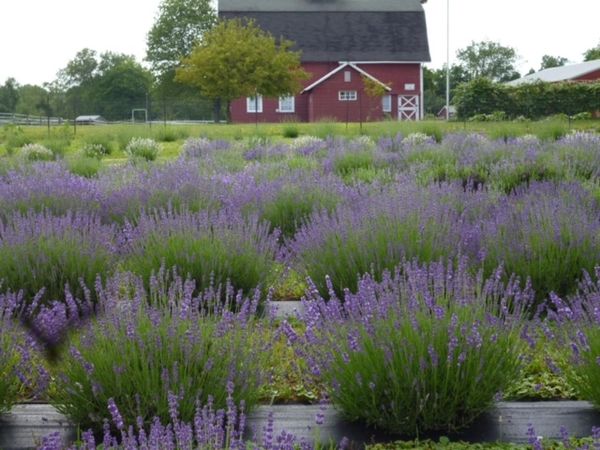 The Hidden Spring Lavender Farm and Gift Shoppe in Skillman, NJ tops my list because it combines several elements for a great family outing – lavender picking, lavender goods shopping, alpaca farm and absolutely picturesque horse barn with beautiful horses. For little kids in particular, this is a whole adventure in one neat little package. This is also one of the lavender farms in New Jersey that doesn't charge an entry fee. At the time of writing during the coronavirus restrictions, my recommendation is to make an appointment, so that you can safely and predictably enjoy both the field and the shoppe.
Getting there: 890 Belle Mead-Blawenburg Rd, Skillman, NJ 08558
#2. Mad Lavender Farm
Why Visit: BEST HANDS-ON experience
Mad Lavender, as the name suggests, is truly a curious bunch. Named as a nod to Lewis Caroll's Alice in Wonderland, this farm showcases 7 varieties of lavender as well as sage, basil and other herbs. The husband-and-wife team offer workshop style experiences to cut and create with different plants grown on the farm, making this a unique opportunity for a day spent crafting in addition to enjoying the blooms. This family farm also runs the incredible goat yoga classes with Dwarf Nigerian goats (yes, I know, how amazing?), which is another inspiring reason to go! Of course, by appointment only for a "u-pick" fee.
Getting there: 452 Co Rd 579, Milford, NJ 08848
#3. Orchard View Lavender Farm
Why Visit: BEST for RELAXATION
Visiting the Orchard View Lavender Farm was a pastoral and relaxing experience, even with kids. The farm is settled in a picturesque and wooded area, perfect for a tranquil and peaceful downtime both in the lavender field and the rest of the territory where you can even picnic. The owners' love can be felt wondering about the delightfully decorated walkways, relaxing on Adirondack chair amidst the fields and meditating while cutting stems to take home and enjoy all year. I appreciated that the owners were comfortable with hosting kids on the farm and let them come along for the cutting (with supervision, of course). The plants are planted far enough apart to prevent little feet from stomping and destroying. Moreover, the adorable shop was to die for – I wanted to bring home all the oils, soaps, scrubs, and really enjoyed the baked goods made with culinary grade lavender on the premises. Open Fri-Sat without an appointment and no entry fee.
Getting there: 101 Karrsville Rd, Port Murray, NJ 07865
#4. Princeton Lavender Farm
Why Visit: BEST for BUYING potted lavender
At Princeton Lavender, no appointments are needed for Saturday and Sunday visits, but during as there is still a risk of coronavirus, you might consider making an appointment or going during the week. Like the others, this is a family-run farm. There is no fee to get in and here you can purchase lavender plants to take home with you, along with lavender pillows for relaxation. The family also has goats and it's possible to picnic on the bucolic premises.
Getting there: 3741 Lawrenceville Rd, Princeton, NJ 08540
#5. Pleasant Valley Lavender Farm
WHY VISIT: BEST for SHOPPING
Pleasant Valley Lavender Farm is currently accessible by appointment only for a "u-pick" fee and many goods can be ordered and prepaid for online. Picking your own lavender is possible, but I thought the best thing about this farm is the sheer variety of lavender-infused goods they sell, beauty products in particular. If you have fans of lavender goods, you could easily get through your entire wish list here.
Getting there: 288 Pleasant Valley Rd, Morganville, NJ 07751
Don't wait to go! Lavender blooms only a few weeks a year between June and July and will be over before you know it.